Our Toronto location is 5075 Yonge Street, Unit 402.
On the exterior, the building is recognizable as the Scotiabank Building. Relocating to this new space will allow us to be more flexible with our scheduling and better help you achieve your goals. The office is in a transitionary stage right now. During this process we appreciate your patience. We welcome your thoughts on how we can make the space more accommodating and comfortable.
Parking
There are multiple parking facilities in the vicinity, including Canada Wide Parking (located at 5075 Yonge St.) with elevator access to the building and a GreenP (10 Empress Ave.) just down the street. Also, Loblaws at 5095 Yonge St, North York offers 2 hours of free parking with proof of a $20 purchase. For more parking options and a map, please read out full announcement.
Subway
If you are arriving via subway, you will want to get off at the North York Centre stop. There is direct access to the building from this stop.
Parking Lots Nearby:
Canada Wide Parking: 5070 Yonge Street, Toronto ($2/30 mins; $4 – after 6pm)
GreenP: 10 Empress Ave, Toronto (corner of Yonge and Empress) ($2.50/30 mins)
Impark: 5051 Yonge Street, Toronto ($5/hr; $10 – after 6pm)
Empress Walk Garage: 10-8 Hillcrest Ave, Toronto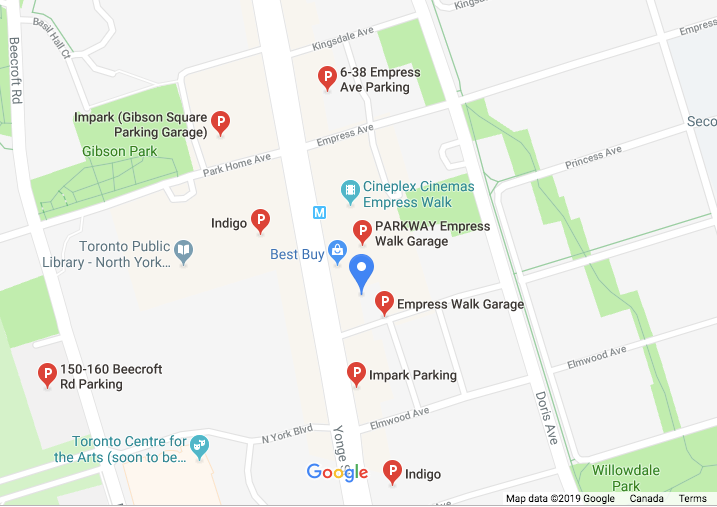 Blue Icon: Our location