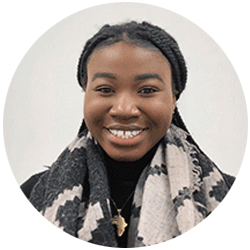 Hello, my name is Nana Serwaa-Gyebi. I am the Administrative Assistant at Restore Balance Toronto, where I assist with the daily operations necessary to the clinic's functionality.
I am currently pursuing a Specialized Honours Bachelor of Arts in Psychology at York University. I am also a volunteer in a Schulich research lab concerning social processes in organizational behaviour. This lab looks at the relationship between our social processes and our resultant behaviour in the workplace. I am looking to expand my research experience into other fields of psychology such as memory or language acquisition. After completing my bachelors, I will be pursuing a Master's degree related to one of my interests in the field of psychology. Moreover, in the summer, I often spend some time volunteering at hospitals. I enjoy this very much as it allows me to connect with people regularly, help them with daily tasks, and improve their day, even if only by a little bit.
As a full-time student with several commitments beyond school, I often find my life to be very unbalanced! When I need to bring back balance into my life, I enjoy going to church, listening to podcasts, reading books or going to Italian restaurants with my friends!