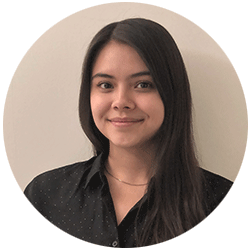 Camille Alizadeh, Clinical Coordinator
Hi! My name is Camille, and I am a Clinical Coordinator at the Restore Balance Toronto location. My role as a Clinical Coordinator is to ensure that you have a positive experience in all aspects of your care! I know how hard it can be to reach out for help, so I am here to support you every step of the way.
I hold an Honours BA in Psychology from York University and plan to pursue further education to become a psychotherapist. Through York University, I have also had the opportunity to contribute to several different research labs. Currently, I volunteer in a lab that studies the clinical benefits of interpersonal and romantic relationships. Working in research has been invaluable and has allowed me to develop my administrative and organizational skills. The Clinical Coordinator role allows me to utilize those skills alongside my passion for mental wellness to bring you the caring and informed service you deserve!
When I am looking to restore balance, I like to walk with my dog, spend some quality time with my husband, or get lost in a good book. My favourite things about reading are that it helps me detach, relax, and explore other worlds from the comfort of my home!
Please feel free to reach out to me if you have any questions about our services. I look forward to speaking with you!