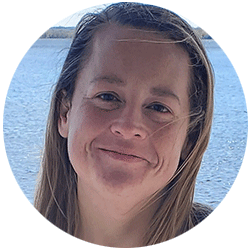 To book a session
call 613-707-0753
or
My name is Katie and I am a Registered Psychotherapist at Restore Balance. I have completed a Developmental Services Worker diploma through Loyalist College, a Bachelor of Arts in Disability Studies (with a minor in Family Supports) through Ryerson University, and a Master of Arts in Counselling Psychology through Yorkville University. I have over 20 years of experience supporting all age populations across a variety of human service sectors, including education, mental health, and social services. I have a passion for providing trauma-informed supports, and this passion has been strengthened through both personal and professional experiences. I aim to encourage hope in those I support by helping each individual realize there is a way to feel better and move forward in achieving their desired goals.
I strive to provide holistic, person-centred, strengths-based support that reflects the goals and needs of each individual. My areas of therapeutic focus include trauma, anxiety, depression, stress management, emotion regulation, substance use, personality disorders, and self-esteem. I work collaboratively with each client to create, monitor, and revise their treatment plans, as I believe being involved in the therapy process is an empowering and necessary experience for clients. I do not subscribe to a single approach in therapy, but instead pull from various modalities, including Cognitive Behavioural Therapy (CBT), Dialectical Behavioural Therapy (DBT), Motivational Interviewing (MI), and Solution-Focused Therapy. I am currently completing training in Internal Family Systems (IFS) and look forward to integrating the theory into my practice soon. In the future, I hope to explore the field of Animal-Assisted Therapy, as I find the presence of animals to be very calming and therapeutic.
To restore balance in my life, I keep active and spend time with my loved ones, including my sassy cat, Honey, who always keeps me laughing. Humour is very therapeutic for me personally, and I try to incorporate it into all aspects of my life. As someone who grew up on a lake, I also find spending time by the water to be extremely restorative, and the peacefulness helps me remain in the moment to enjoy life's experiences.