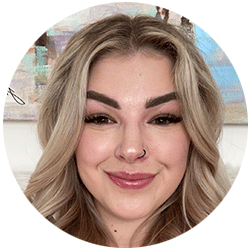 Megan McIntosh, Clinical Coordinator
Hello! My name is Megan and I am a Clinical Coordinator at the Restore Balance Toronto location. I'm very excited to be joining the team here at Restore Balance as providing support and help to others has always been my goal throughout my studies. My passion for mental wellness motivates me to provide you with all the support I can to ensure a safe space and a positive interaction at the practice!
I received my Bachelor of Science (Hons) in Psychology and Biology joint major from Trent University and am pursuing a Master's degree in Health Science at Ontario Tech University. The aim of my research thesis is to examine how mental fatigue affects physical performance in hopes to reduce injury in the workplace. In my BSc my research interests led me to assist in various laboratories examining the effects of concussions and mTBIs on mental health disorders, alexithymia and somatization. Working in different labs has allowed me to open myself up to new perspectives and gain tools and skills that are beneficial to my role as a Clinical Assistant!
When I'm needing to restore balance in my life I love to get outside and take a walk and be active or draw a bubble bath to relax and unwind! Making time for yourself is so important, just taking a few minutes to practice mindfulness helps me stay present in the moment.
Please feel free to reach out to me with any questions, and I look forward to meeting you