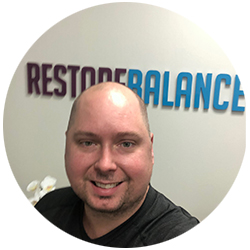 Scott Bartley, Operations & Community Relations
I currently oversee marketing, operations, and community partnerships at Restore Balance. I bring over 15 years of experience across a variety of industries to my role, including overseeing marketing and partnerships for North America's largest home & garden event – The Home Show, The Big One (National Home Show). I have a diploma in Integrated Marketing Communications from St. Lawrence College and hold the Certified Marketing Specialist designation from the Canadian Marketing Association.
At Restore Balance, I focus on creating and maintaining community and industry relationships, improving the client experience, and supporting the amazing work of our psychologists and clinicians.
In addition to my current role with Restore Balance Psychological and Counselling Services, I currently sit as the East Region Chair for the Ontario Tennis Association.
As things are always hectic professionally, I try to balance life through sports and hobbies including tennis.