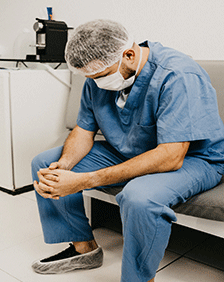 During this time of need, our practice has committed to offering crisis services to first responders, healthcare providers, caregivers, and other direct support staff who are on the frontlines of battling COVID-19. Crisis debrief services typically encompass the provision of the following:
Crisis Management: A process of assisting first responders, healthcare providers, and other support staff directly involved in a crisis situation to help persevere at times of crisis and minimize the potential affects of trauma.
Crisis Debriefing: A facilitated discussion that allows for the safe processing of immediate traumatic event, labelling/normalizing difficult-to-feel emotions, as well as reflection on the impact of the crisis within a safe environment. This event-processing intervention focuses on addressing the immediate physical, psychological, and emotional symptoms associated with exposure to trauma.
Resourcing/Referral to Resources: A provision of referrals to appropriate resources in the community to address presenting issues when time allows. This intervention also focuses on helping individuals to focus on their available internal and external resources.
Problem-Solving: A process of working through a problem in all details in order to reach a suitable solution, taking into consideration the immediate needs, personal triggers, and available resources.
Stress-Management:  A practical approach to recognizing, minimizing, and coping with stressful events. Stress management techniques focus on expanding internal and external resources to meet the demands while focusing on meeting immediate basic needs
Crisis Containment: Crisis containment is an aspect of resiliency and refers to the capacity to internally manage the troubling thoughts, feelings, and behaviors that arise as a consequence of extreme stress. This intervention focuses on balancing the acknowledgement of strong feelings while meeting the immediate demands.
Compassion Support: An intervention targeted to helping individuals to restore their emotional reserves during the times of extreme service delivery. Specific strategies focus on working through the unique ways each person expresses the emotional distress that leads to suffering and requires specific interventions to help heal from trauma.